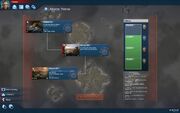 The Neo Skull Crisis is almost over, there is only one day left to complete this Global Event for anyone who might have missed out on it!
Warships, pirates, nukes, weapons and armadas - all in all this seems to have been one of the fastest events to reach 100% Global completion. The Anno community wishes to thank the top contributors this month who have made the fast rewards possible.

This Monday, 7/02 Anno 2070 will continue the chain of World Events with the The Eden Project, so if you have missed it before and want to grab a hold of the coveted Guardian 1.0 blueprints, if you're eager to get in the top 5 of Global Contributors, or you just want to gather the sweet Career Points, there is not much more to wait!