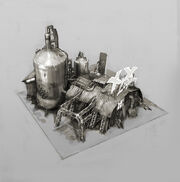 See also Eco Buildings, Tech Buildings, and Infrastructure Buildings
See Category:Tycoon Buildings for an alphabetical list of all Tycoon Buildings.
Introduction
Edit
These buildings can only be built by the Playable type Tycoon. These buildings are built and run by Global Trust Inc.; the worlds largest supplier of energy and the main force behind the Tycoons.
Tycoon Workers
Edit
Production
Edit
Tycoon Workers don't have special buildings.
Tycoon Employees
Edit
Production
Edit
Tycoon Engineers
Edit
Production
Edit
Tycoon Executives
Edit
Production
Edit
Ad blocker interference detected!
Wikia is a free-to-use site that makes money from advertising. We have a modified experience for viewers using ad blockers

Wikia is not accessible if you've made further modifications. Remove the custom ad blocker rule(s) and the page will load as expected.