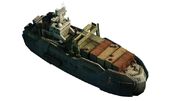 In Anno 2070, your ships can explore seaways, discover new trading partners and transport goods from one island to the next.
Types of Ships
Edit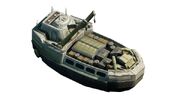 A variety of ship types which can differ greatly in hold capacity, susceptibility to damage and speed are available for your adventure in Anno 2070. The ship's speed is also additionally influenced by the current cargo load and / or damage. For submersible craft see Submarines.
Trade Ships
Edit
Hovercraft          

40/25/– (10/6/– DPS)

 (Eco only)  
Colossus             

–/60/– (–/10/– DPS)

 (Tycoon only) 
Shark                

21/21/21 (7/7/7 DPS)

 (Unlockable) (Keto's ship) 
Raider               

15/15/15 (3/3/3 DPS)

  (Hector's ship) (Can be unlocked by bringing Hector Technology Item to your Ark, achieved by destroying Hector)
Atlas                    

-/-/-

 (Deep Ocean) (Tech only)
"Northburgh" is sometimes used as a ship name, as a reference to Lord Richard Northburgh in Anno 1404.