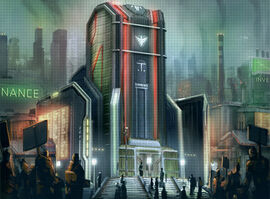 Final Spurt is the fourth bonus mission released in Anno 2070.You wiil need the DLC package of global trust to play it.
Description
Edit
Global Trust is forced to operate in unprofitable sectors in order to replace the business partners already lost. Forge new trade agreements in the Company's name by quickly responding to the global markets constantly fluctuating demands.
Objectives
Edit
Close at least 8 deals...
... but miss fewer than 3 deals
Walkthrough
Edit
As the mission description says, you have to close at least 8 deals with Rufus, before the time runs out.
Every time you are given a new deal, at first Rufus will tell you which material you will need to bring to his Ark. A timer will then start. After some time, Rufus will explain how many tons of the given material you will need to bring him. If you bring the materials to his Ark in time, the deal is forged.
Despite the objectives saying you can miss up to 2 deals, if you want to win you NEED to focus on completing ALL the first 8 deals. The reason is that the first 8 deals requires materials you can obtain up to the Tycoon Engineers level (for the last deal you will need 1,200 Engineers). If you missed one deal, Rufus will then ask you to produce a given quantity of Jewelery which not only requires the Tycoon Executives but also the Diamonds you can only get from underwater.
So, in summary: save the game often (at least after completing each deal) and if you miss a single deal... load a previous save or start again.
These are the first eight deals:
40 tons of Coal
50 tons of Iron Ore
60 tons of Concrete
60 tons of Oil
50 tons of Steel
40 tons of Luxury Meals
50 tons of Champagne
40 tons of Heavy Weapons
Video Walkthrough
Edit
Video Walkthrough by YouTube user Leafonthewin
Ad blocker interference detected!
Wikia is a free-to-use site that makes money from advertising. We have a modified experience for viewers using ad blockers

Wikia is not accessible if you've made further modifications. Remove the custom ad blocker rule(s) and the page will load as expected.