Energy Transmitter
Comments

19
377pages on
this wiki


Construction Cost
15000

 ·

60

 ·

40

 ·

25
Maintenance Cost
-30

 ·

  -175

Size
5x6

Hitpoints
3500

Unlock
1 Genius
The Energy Transmitter is the building used for Energy Transmission, the process of sending power from one island to another island. You are able to build the Energy Transmitter both above and under water. A single Transmitter is able to send energy to at maximum four other transmitters or receive energy from any number of transmitters. It is however incapable of simultaneously sending and receiving energy, thus precluding the possibility of forming 'chains' of transmitters.
It also makes you able to use
Geothermic Power Plant
 energy on normal islands, for example when building a monument.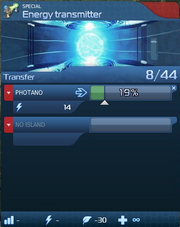 Upgrades
Edit
All upgrades for the Energy Transmitter are Research Projects available at the Academy.
| Type | Quality | Icon | Name | Effect | Description | Costs |
| --- | --- | --- | --- | --- | --- | --- |
| | | | Automated maintenance | : -10% | Costs only the half and is more precise. | |
| | | | Cooling water treatment | : -30% | Looks almost like normal water after treatment. | |
| | | | Carbon-coated transmitter head | : -20% : -40% | Increases efficiency tremendously | |
| | | | Extended coil battery | : -30% : -50% | Delivers almost perfect efficiency. | |