Eden Initiative
Comments

8
376pages on
this wiki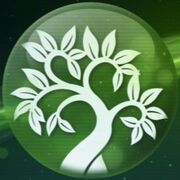 The Eden Initiative
is an environmentally focused organisation which is both adored and criticised for its progressive conception of the world. The Eden Initiative fights to retain the few remaining large nature reservations as well as for the careful administration of the oceans' treasures. The organisation accomplishes a comprehensive supply in alternative energies and advances the investigation of the latest Green-Tech technologies. These technologies, although inefficient (except
energy
wise because they are very energy efficient), have minimal impact on the
Ecobalance
of an area and are far more sustainable in the long-run.
The Eden Initiative leader is Seamus Green, whom players can vote for to be World President. The spokeswoman for the Initiative is Yana Rodriguez.
Supporters of the Initiative are called Ecos. They are in direct conflict with Global Trust over ideals, and the usage of the now vastly reduced available resources.
Important Ecos
Edit
Eden Initiative
Forest Hill 31
12345 Paradise Bay
yana@eden-initiative.nat
green@eden-initiative.nat